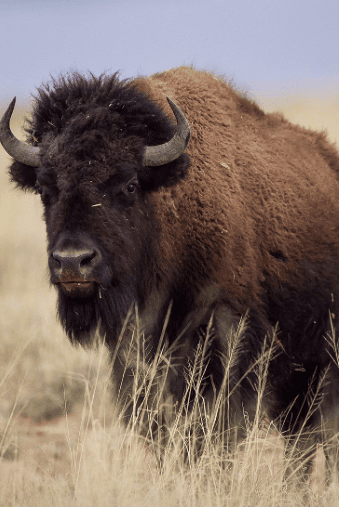 How to bring the bison home
Spread Rewilding Around the Globe!
Featured image:  Bison © Robin Silver
By Susie O'Keeffe
Listen to Susie reading "How to bring the bison home."
How to Bring the Bison Home
Take a million tears
in each salty jewel slip
the dust of a red man
his starved children, his raped wife
string the glimmering spheres
along frozen prairie grasses
Pray for 120 years
Gather the 300 bison ancestors
Build a pen Cut the grass Offer the grass
Give the survivors
a cold Montana corner (for now)
Carve white men
into their sacred mountains
(no rock climbers permitted)
Give one hill for worship
(rock climbers come anytime)
Offer their great, great grandchildren
crystal meth suicide diabetes
Wait
Sing the bones
(60 million bison)
dance the slaughter
(700,000 wolves)
chant the loss
(12 million people)
Drum, drum, drum
on the cold gym floor
the fire water fight
Open the gates
—
The Rewilding Institute (TRI) mission is to explore and share tactics and strategies to advance continental-scale conservation and restoration in North America and beyond. We focus on the need for large carnivores and protected wildways for their movement; and we offer a bold, scientifically credible, practically achievable, and hopeful vision for the future of wild Nature and human civilization on planet Earth. |Subscribe | Join The Movement |
Spread Rewilding Around the Globe!